You may have one or more media boards in your 3D world. They look like this:
The boards enable you to upload certain media resources (via URL or hard drive) which are then made available to other people who are present in that world. An uploaded media resource appears as an image on the board. A user can activate a media resource by clicking on the picture associated with it on the board. Media types like videos may have file size restrictions when uploading. Contact us if you need a larger per-file upload size for your project — the default max file size is 64MB.
To begin an upload from your hard drive, click the pink plus button [+] and a file chooser will appear. Navigate to the location where the desired file is; select the file by clicking on it once (it will highlight in blue); finally click Select and the upload will commence.
To upload via a URL, simply paste the URL into the text field and press enter, or click the LOAD button.
If your file is large enough, the upload progress percentage will be displayed in the information bar towards the bottom of the media board. Additionally certain file types and large file sizes carry a transcoding time delay, so you may have to wait a little while for your file to be transformed into a format that works in the 3D world. The ideal formats for videos and audio are OGG/OGV.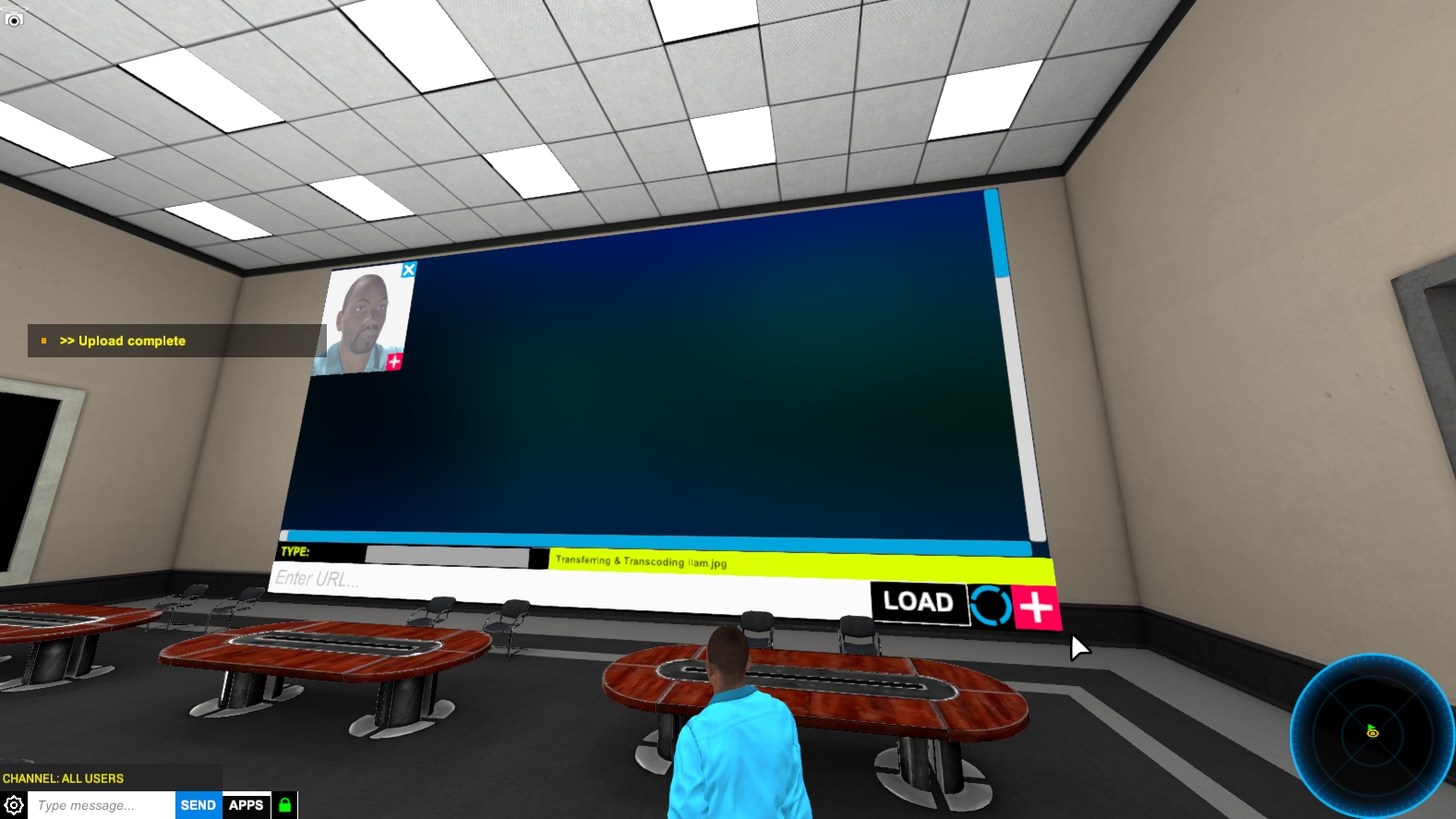 Whilst the board is uploading or deleting, a small blue spinner icon will also appear next to the pink plus button.
When your upload completes, a small icon will appear on the board. As the board fills up, you will notice the icons form a grid. If you have uploaded a resource to the board, but cannot see any icon at all, it may be that you have to scroll upwards to see it. You'll notice some blue scrollbars on the board that will indicate how deep into the board you currently are.
Each icon has two smaller buttons in its corners: a blue X and a pink [+]. The blue X deletes the media resource for everyone across the network (this may take a few seconds to complete), and the pink [+] adds that media resource to your inventory, so you can activate it when you are away from the media board. Inventory items do not carry over from world-to-world.
To activate or view a particular media resource, click on any part of it except the smaller corner buttons. Depending on the media type, a player or viewer will open up allowing you to view the resource.
If you need to know more about what a given media resource icon represents, you can mouse-over a media resource image, and its name and media type will be displayed in the information bar towards the bottom of the media board.